It's January and this month our blog hopping group is BACK and ready to help you get organized with a clean house for the New Year! If you recall, I'll share my Organizing Idea and then you can scroll down and see what all my friends came up with! Today I'm sharing an easy Family Chore Station with FREE PRINTABLES!
These prints are great because there are over 96 options for chores and 13 different color combinations for the tags and Chore Chart. You can mix and match or print one out per child. I laminated all pages of my tags so that as my son got older I could cut out the ones that applied to him and replace them with the ones we didn't use as much anymore.
Supplies Needed:
Wooden circles from JoAnn's (come in packs of six 1.5″ big)–we used 12
Scissors or 1.5″ circular hole punch
DimplePrints Chore Prints and Chart (download via links below)
Mod Podge or glue
Mini Magnets
Hot Glue
How To:
1. Download and print off the chore chart and chore tag prints (bel0w). Chore tags come in a variety of colors all named in the link.
2. Cut out your chore tags and mod podge or glue them onto your circles.
3. We laminated our chore chart and taped onto the fridge and then glued small magnets onto the bag of the circles. As far as laminating goes…I actually purchased a laminator last year off of Amazon for under $30. I find it's SO helpful to have it in my craft room for quick projects like this…much more efficient than taking it to the office store to get laminated.
4. Use your chore chart as it suits your family and ENJOY!
EASY PEASY!! You can make separate chore charts for each of your children by using different colors! We hope this gives you some ideas for getting your family chores more organized in 2014! Download your prints below and then visit all the other cleaning/organizing ideas from our other blogging friends!
ChoreTagsbyDimplePrints_YELLOW
ChoreTagsbyDimplePrints_PURPLE
ChoreTagsbyDimplePrints_LIGHTBLUE
ChoreTagsbyDimplePrints_MEDBLUE
ChoreTagsbyDimplePrints_ORANGE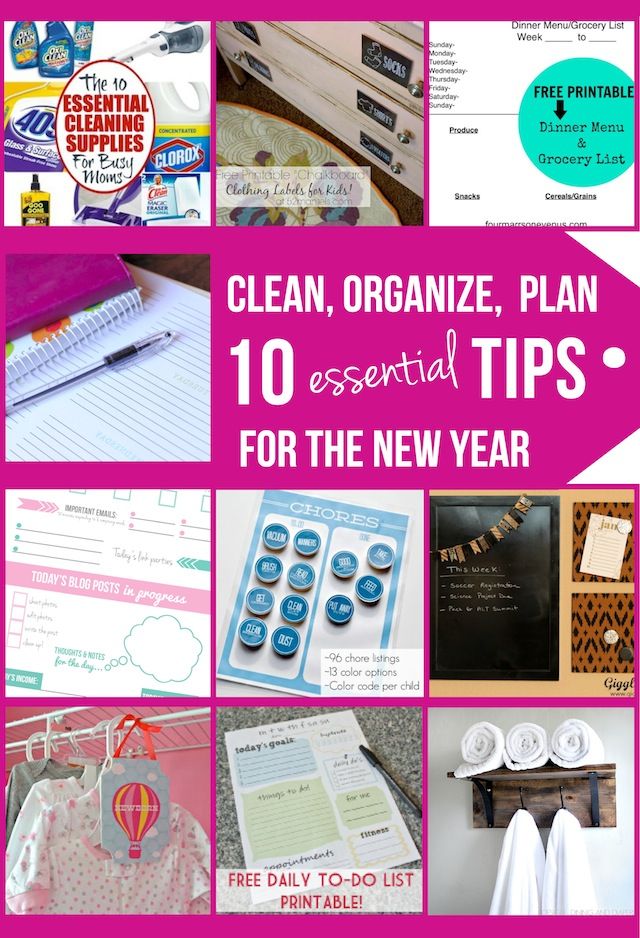 2. 52 Mantels
And to top it all off, we're teaming up with the FABULOUS people over at Erin Condren to giveaway a Life Planner and Gift Box Briefcase! I've been a lover of Life Planners for years now and swear by them! The designs are customizable and you'll love the different things each planner has to offer! The folks at Erin Condren have thought of EVERY possible way to get you organized and ready for your busy schedule! Enter to win a Life Planner by entering the Rafflecopter giveaway below!